Wednesday, April 11, 2012 at 11:45AM
Sarah Scoles / Brooke Napier
|
3 Comments
| |
Email Article
by Sarah Scoles
Guess who's having the best week ever?
...Telescopes?
Yeah, telescopes have been totally busy making a name for themselves this week.
The Square Kilometer Array (SKA)
The SKA is a radio interferometer that will have a total collecting area of 1 km2. That doesn't mean that the SKA is a bunch of antennae spread across 1 km2 of land: it means that if you put all the antennae right up against each other, their dishes would cover a square kilometer. That's a lot of dish.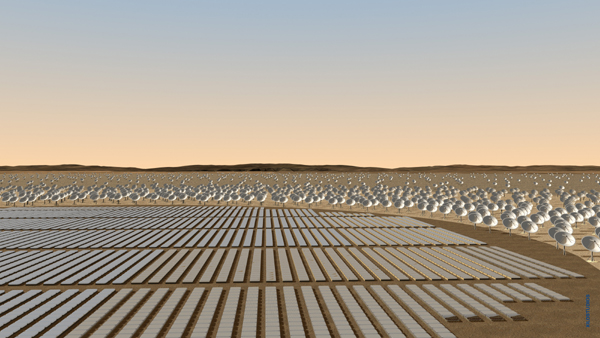 Android soldiers taking over the world, or
a very large, benign interferometer?
YOU DECIDE.
Source.
The SKA is a huge project that, if ever truly completed, will result in a telescope 50 times more sensitive than any that exists right now. Because of its size and the enormous computing power required to correlate signals from that many telescopes over that large a space (the dishes will be, from one end to the other, about 3000 km apart), the effort is global: 67 organizations and 20 countries, of which the US, as of a few months ago, is no longer one.
Like with the Olympics and the Super Bowl, the governing organization wanted countries to compete for the chance to have the SKA built on their soil. The competitors are Australia and South Africa, who have both been proving themselves by schlepping out to the bush and the desert and building a bunch of telescopes. The Site Advisory Committee recently met and recommended that the bid be given to South Africa. The decision was so marginal, though, that this week the Management Board (no bureaucracy here) proposed splitting the antennae between the two countries. Both decisions were reported in Nature.
Low-Frequency Array (LOFAR)
I'm a hilarious-looking telescope.
Source.
Aside from having an acronym that sounds like the name of a friendly extraterrestrial, LOFAR is nothing like a friendly extraterrestrial. And despite Scientific American's attention-grabbing headline, "A New Radio Telescope Will Scan for ET's Calls," the word "extraterrestrial" is found nowhere on LOFAR's actual science website. The Low Frequency Array (LOFAR) looks funny and will be made of antennae spread over 48 stations in the Netherlands, Germany, France, Sweden and the U.K. The array will be able to scan the entire sky every 45 days, investigating the Epoch of Reionization, distant galaxies, transient sources (which is where 'aliens' could come in), cosmic rays, the Sun, and cosmic magnetism.
Giant Magellan Telescope (GMT)
All of these telescopes look like they might someday take
over and/or destroy the world.
Source.
In a story about breaking free from the bonds of tax-funded science, the GMT has announced that it will no longer be competing for (diminishing) NSF funds. Science picked up the story and reports that the GMT will, instead of waiting around for NSF and hoping for the table scraps of traditional public funding, use the private funding it has already secured and will pursue partnerships both in the US and abroad.
Nameless Collaboration between Australia and South Korea (no acronym WHAT)
UPI reported that three telescopes in Australia "linked up" with two in South Korea to form an interferometer 5000 miles across, with 100 times the resolving power of the Hubble Space Telescope. The telescope in the image that goes with the story doesn't look like it has malicious intent toward human life on Earth, so I don't have much to say about this one.
Nine NASA Missions Extended
It's everyone's favorite time of year: NASA Senior Review report release time! It's like the Christmas of space-based missions. This time, all flying NASA projects will continue, nine of them being funded past their initial lifetimes. The official report is here.
James Webb Space Telescope (JWST)
JWST, aka TELTH (Telescope Everybody Loves to Hate), got its solid-state data recorder this week, according to space.com. As JWST siphons money from every other astronomical project and acquires more and more of its parts, it gets closer and closer to being in space and actually doing work that will make us all believe that the sacrifices, and the late nights crying and fighting, were worth it. For a good summary of the history of drama-drama, visit Earth Magazine.