Monday, July 30, 2012 at 8:08PM
Sarah Scoles / Brooke Napier
|
2 Comments
| |
Email Article
by Sarah Scoles
Grand design spiral galaxies are the most ordered collections of stars in the universe. One would assume that those galaxies--with their organized orbits, central core, and twisting arms--didn't just pop into existence right away. One would think that they took some time after the Big Bang to compose themselves.
However, astronomers have recently found that the formation of spiral galaxies--or at least one spiral galaxy--doesn't have to take very long at all.
So grand. So designed. So spiral. Credit: Law, et al.
In a paper published in Nature on July 18, a group of researchers announced the discovery of a spiral galaxy at a redshift of z=2.18 (What is z?), which means it is 11 billion light-years away and was formed about 3 billion years after the Big Bang.
For reference, it takes individual stars a few million years to form, and it takes me 30 minutes to get ready in the morning.
If we compare the life of the universe so far to a human lifetime (~85 years), this old spiral, Q2343-BX442, would have become a suave, put-together person who paid electrical bills on time by age 16. And we all know how unlikely that is.
At this early time in the universe's life, other galaxies were blobby, like radioactive cookie dough that needed more stirring.
Of the 360 other galaxies found from this time period, this is the only spiral.
So why was Q2343-BX442 so pretty and poised, when all of its peers were still schlumps?
The others were, how do the French say, "dynamically hot." All that really means is that the motions of stars within them were random, mathematically. In spiral galaxies like ours, the stars all orbit a central area at predictable velocities. But these long-ago galaxies were not so structured.
The collaborating astronomers believe that the presence of another galaxy, close enough to have significant gravitational effects, shaped this galaxy up. Kind of like getting a long-term girlfriend at age 16 could, conceivably, stabilize and ground you (not that I would know). This companion galaxy, with a mass much smaller than the spiral, is contained in the red circle in the previous image.
You could ask me to explain this image, but that would be futile.
Other galaxies from this time in the universe have similar initial characteristics, and so could conceivably have ended up like Q2343-BX442. None of them, however, did end up with spiral structure (at least none we know of so far). Based on Q2343-BX442, astronomers believe that a "triggering mechanism" --in this case, the presence of another galaxy--is both required and rare: spiral galaxies didn't organize themselves into spirals, but required an outside influence. Additionally, it's probable that the spirals so formed didn't last long. They were a phase.
And that seems to be true for Q2343-BX442: its spirals will only (only) last 100,000,000 more years.
Are they sure it's a spiral?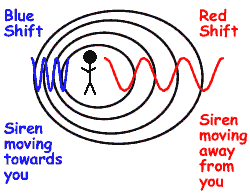 Somebody at Cyberphysics really knows how to work a mous ein MS Paint.
Yes. They didn't just look at it and say, "Those look like ARMS," as the brain can play tricks, especially when the brain wants to put out a press release. The astronomers looked at spectral lines from hydrogen and saw that their wavelengths were shifted: some were higher than they should have been, and some were lower. Shifts in frequency indicate movement, according to the same Doppler Shift phenomenon that lets your NBC syndicate weatherperson show you Doppler radar maps of clouds barreling toward you. In parts of the galaxy, hydrogen was coming toward us (higher frequency) and, in other parts, going away from us (lower frequency).
The patterns of movement show the whole galaxy is rotating in a pretty, and pretty consistent, manner.
Other Galactic Facts:
Many stars, totalling 52 times the mass of the Sun, form every year.
This rate is 30 times the star formation rate in spirals near us!
The avergae star inside the galaxy is 1,100,000,000 years old.
So?
Mostly, I just think it's cool to think that 11 billion years ago, there were galaxies, or at least one lonely galaxy, that looked like ours. Even though the reasons for its structure are different from our galaxy's, they ended up the same, if only for a few million more years. It sounds like a metaphor, and maybe it is.
David R. Law, Alice E. Shapley, Charles C. Steidel, Naveen A. Reddy, Charlotte R. Christensen, & Dawn K. Erb (2012). High velocity dispersion in a rare grand-design spiral galaxy at redshift z = 2.18 Nature (487), 338-340 DOI: 10.1038/nature11256